It is established in UK law, in the Town and Country Planning Act 1990 Section 198, that trees have value as a public amenity and therefore local planning authorities are given a duty to protect trees in the public interest.
CAVAT (Capital Asset Value for Amenity Trees)  is used by the London Tree Officers Association as an asset management tool for trees that are publicly owned, or of public importance, to express their value in monetary terms directly related to the public benefits that each particular tree provides – as if it were a financial asset of the community. Applied to the trees removed last week behind Sherriff Road – and many others are planned for destruction by Network Rail this month in other communities along the tracks as far as Wembley – we have lost thousands of pounds of green assets.
Network Rail explains: "We appreciate that cutting back vegetation can be a sensitive issue and therefore take great care when planning this type of work. Vegetation work on the railway near to your property however is necessary so that we can maintain and operate a safe and punctual railway. We remove trees that are tall enough to fall into the path of a train or onto critical railway infrastructure. We also look to remove problematic broad leaf species (such as ash and sycamore) that can have a detrimental effect on rail adhesion which can lead to safety related incidents and disrupted train travel. We did also undertake an ecological survey and environmental appraisal for the vegetation works, in line with best practice guidance to identify any protected habitats or species"
National Crisis
Guardian Exclusive: Plan to stop leaves and branches falling on lines has already led to thousands of trees being chopped down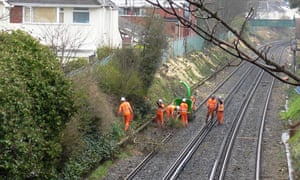 Thousands of poplars, sycamores, limes, ash trees and horse chestnuts have already been chopped down across the country from Yorkshire to Dorset, and the scale of the potential destruction outlined in a Network Rail blueprint involves 10m trees growing within 60 metres of track.
Network Rail, the public body that owns and manages much of Britain's railway infrastructure, disputes that millions of trees are at risk, and that its felling operation is secretive or represents a change in practice. After publication of this article, the organisation's head of media, Kevin Groves, said in an email: "We are not a logging company or a paper making company – we have no need or desire to remove all the trees from the railway. Our job is to run trains, and run them reliably and safely and to do so we have to manage our lineside vegetation carefully and responsibly and that's exactly what we do." This enabled Network Rail "to both maintain and look after the trees on our estate, as well as remove dangerous ones and those minority of species that can cause reliability and safety problems in the autumn. Biodiversity matters to us."
From Regulator – Office of Rail & Road (ORR) – Complaints about Network Rail
"Network Rail is responsible for the railway network. This includes:
line-side maintenance including vegetation and fencing
track quality
environmental issues such as noise and vibration, pollution and graffiti
railway structures such as bridges, station buildings, overhead lines, tunnels and signalling
network maintenance, particularly engineering work and speed restrictions
property issues including changes to use of railway land
You should try to resolve your complaint with Network Rail first.
We provide information on what Network Rail is responsible for and how you can make a complaint or enquiry. But Network Rail's licence is designed so that our regulatory controls are at a high level, so we are unlikely to be able to intervene in many individual complaints."
Over the last fortnight, people have woken to the sound of chainsaws and expressed concern at the lack of consultation and the scale of the destruction. Who are they to turn to? Who is holding Network Rail accountable?
Click on links below for further info & to have your say:
http://www.woodlandtrust.org.uk/blog/2018/05/network-rail-tree-plans/
"Network Rail: Stop Network Rail Chopping Down Millions of Trees!"